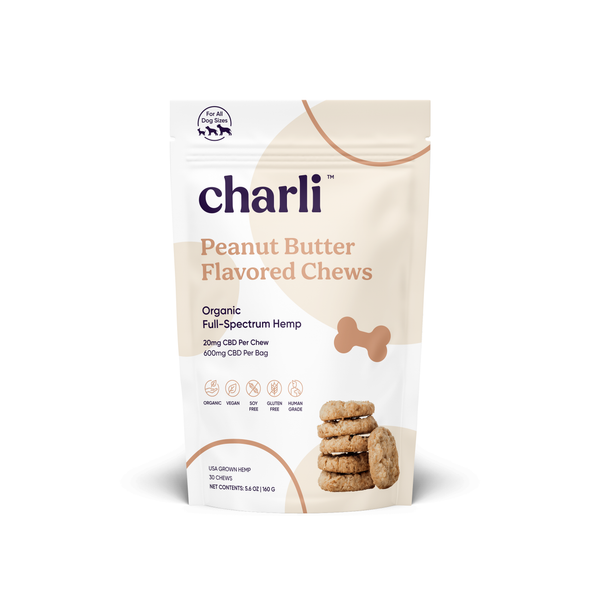 CBD Dog Chews
Our CBD dog chews are carefully crafted and baked with a special formula of organic ingredients and premium full-spectrum CBD. These tasty and crunchy chews will not only appeal to the pickiest of pooch palates, but will also help support your pet's biological processes and immune system. Did we mention our chews are designed to help keep your pet calm and alleviate hip and joint stiffness?
'Hip' 'Hip' Hooray to better days!
Ingredients
Organic Full-Spectrum CBD
Our Full-Spectrum CBD is organically grown and free of GMOs and other contaminants. Our CBD is farmed in the USA and is always third-party lab tested to ensure high potency and purity.
Organic Almond Butter
Almond Butter contains protein and healthy fats, including Omega-3 fatty acids. Almond Butter is also rich in vitamins, minerals and antioxidants, including iron, calcium, vitamin E, potassium, manganese and magnesium.
Organic Apple Sauce
Apple Sauce contains antioxidants called phytochemicals which may help reduce the risk of cancer, diabetes and heart disease. Apple Sauce also provides a healthy portion of vitamin A and vitamin C, which work in tandem to support your pet's immune system, reduce inflammation and support a healthy skin and coat.
Organic Coconut Oil
Coconut Oil contains healthy fats which increase your pet's energy levels, aid in digestion and promote a healthy skin and coat. Coconut Oil may also help improve your pet's metabolism, cognitive function and bone health.
Organic Oats
Oats and oat flour are heart healthy and are an excellent source of soluble fiber which may promote your pet's healthy glucose levels. Oats are great for dogs that have sensitivities and allergies to grains. Oats contains vitamin B and omega-6 fatty acids which work in tandem to promote a healthy skin and coat.
Details